A packing list for the wellness traveler
Traveling puts us outside of our day to day wellness routine and while I consider it a good thing to shake things up sometimes, I also want to pack things that will make me feel at ease and better prepared. I'm hoping this list can act as a good guide for the next time you travel as well!
I am actually headed to Tulum next week, which is a wellness place in itself, but even if it was elsewhere, much of what I'm packing would remain the same.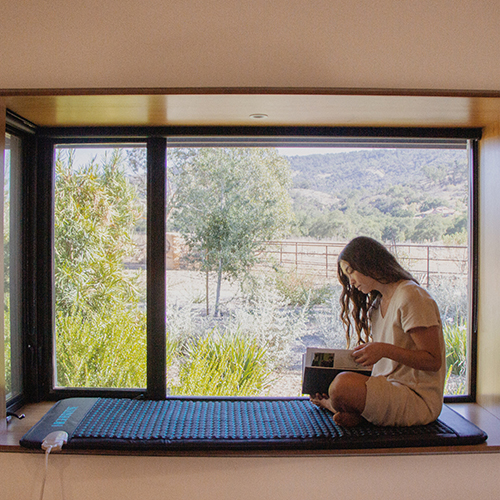 This post contains affiliate links, which means I may make a small commission at no extra cost to you. Thank you so much for your support! See my full disclosure.
A Packing List For The Wellness Traveler
Wellness Essentials
Sovereign Silver Bio-Active Silver Hydrosol – It's the best for travel! I use it every day while traveling to simply boost my immunity. It's great for sore throats, colds/viruses, infections, cuts, rashes, teeth, spraying on acne, ringworm, pink eye, and more. Although I don't normally use it as a hand sanitizer, I may when I'm in the airport.
Tea bags – ginger, roasted dandelion, raspberry leaf, chamomile, peppermint
Honey sticks – To add to tea or for a little snack
Magnesium – A good one for so much. It acts as a gentle cleanser, reduces bloat, calms the body and the adrenals, improves sleep, and provides pain relief. I like to take this before bedtime.
Ashwaganda – An adaptogen to adapt to whatever my body needs. I get a calming energy boost from it.
Oil of Oregano – A travel must for me. It's antiseptic, antibacterial, antiviral, antifungal, helps prevent and treat colds/flus/viral infections, and helps with food poisoning. I'll take it in the morning with breakfast everyday, but if I go somewhere where I'm a little leery about the food or getting a raw salad, I'll take it beforehand so the oregano is in my stomach by the time the food hits. Say a chef cut his hand while cooking your food… this would help with that.
Ginger – It aids digestion, but since I am packing DigestGold this trip as well, I'm mainly taking this as a precaution for nausea. Instead of packing all of these bottles separately, I add them to a Monster Fit container. I also use these little containers for my purse.
DigestGold + Probiotics – Digestive enzymes and probiotics in one makes it extra convenient for travel. – Enzymes for heavier meals with a bonus of probiotics
KN95 Mask – For the plane. This mask is another good one.
Filtering water bottle – I don't love drinking out of the (BPA-Free) plastic straw, but I'm happy I have it during the times I need it.
A feel good book – I'm bringing the The Alchemist for this upcoming trip.
Essential oils or Rollerballs – lavender, frankincense, & peppermint are always good options
Beauty Essentials
Olio E Osso Balm No. 0 – Eucalyptus Menthol Balm for my lips and right underneath my nose
Eye Mask – for sleeping
Similasan Eye Drops – dry eye relief from the plane or long beach days
Thieves – hand sanitizer to keep in my Cotopaxi fanny pack
Saje Clean Hands – moisturizing hand cream for the plane
Rael Clean Santitizing Wipes – to wipe whatever I need
Happy Gum Drops – for fresh breath
Dr. Bronner's Mini Peppermint Soap – body wash, face wash, shave wash, whatever I need it to be…
Korean Mitt – for a circulation boost in the shower – these mitts are small, but they work
Sunscreen – for extra sunny afternoons on the beach
Tinted Facial Sunscreen Moisturizer – for my everyday tinted facial SPF
Everybody Loves The Sunshine Oil – A lovely sun synergizing oil to apply to my face or body when the sun isn't too hot.
Solar Recover Save Your Skin – An after sun moisturizing spray that is also helpful for burns. It's also just a wonderful spray "lotion" for the face and body. I put everything into smaller bottles as I only use a carry-on and a backpack. I don't check a bag.
Coconut Oil – A body moisturizer that acts as a very low SPF.
A dry brush and Gua Sha (code herhealthystyle10 saves 10% off OSEA)- To keep stimulating the lymphatic system and move and drain out toxins.
Sea Salt Spray – for the tousled beach hair
Sample packs of shampoo/conditioner and a hair brush.
One or two face oils, an undereye product, and a little makeup will join the mix. I like to keep it simple on vacation though.
Newati Herbals Bug spray – Since I'll be in the jungle this trip. A pure essential tea tree oil works in a pinch too. It also helps with any blemishes that may pop up (a 2 in 1).
Snacks For the Airport & Plane
Fruit – bananas, apples, tangerines,etc.
Dried Mango or other dried fruit
Medjool Dates or Natural Delights Mini Coconut Medjool Dates
Raw Nuts – brazil nuts are a good go-to
Lemon slices in a plastic bag to squeeze into water. I'll buy 1 or 2 bottles of FIJI water in the airport once past security. Flying is acidic and lemon helps alkalize the body. Flying is also very dehydrating and of course lemon water hydrates us as well.
Rice Cakes with avocado -grab a knife in the airport to the cut and smear the avocado on
Steamed yellow potatoes or a ready to eat salad also work if you have the room for it. You can mash on some avocado and squeeze in a lemon for dressing. Just don't have anything liquid-like.
When/how to eat when flying– I'll eat more in the airport and very little on the plane when I can help it. Our digestion isn't great with the high altitude, so the less trying to go down the better. Obviously with a longer flight I happily eat, but it's just something to think about…
Flying is super acidic, so drinking a big green juice beforehand is super helpful. The more alkalized our bodies are prior to getting on the plane, the better.
Once off the plane – When I get off of the flight I'll be finding a fresh juice or smoothie and getting in the sunshine to help reset my system. (During the times this is doable.)
---
I hope this guide was helpful to you! I'd love to know what your must-have item you need for travel is. Comment below! Xx Riane
Find me the daily @herhealthystyle on Instagram
Find this helpful? Pin, Share + Save It For Later: A Packing List for the Wellness Traveler
This post contains affiliate links, which means I may make a small commission at no extra cost to you. I am only featuring items I love. As an amazon associate, I earn from qualifying purchases. Thank you so much for your support! See my full disclosure.